HOLIDAY CANDLELIGHT SERVICE:
"Spiritualism and Prophecy"
will be held on SUNDAY, DECEMBER 18th at 6:00pm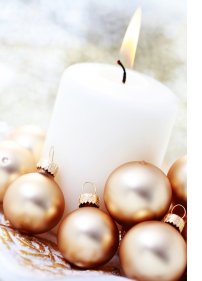 Dear Members and Friends,
We will be holding a Holiday Candlelight Service on Sunday, December 18th starting at 6:00 pm. co-conducted by Rev. Gerry Green and Rev. Nilsa Ocasio. Rev. Judith Abel will be present to add uplifting music to our service as well. This service will include spirit messages, an inspirational talk, interactive meet & greet, healing prayers for those present and absent, guided meditation, lighting of the candles, holiday caroling and more!
Rev. Green will be presenting a talk entitled: "Spiritualism and Prophecy".
Principle #9 in the Declaration of Principles says that Spiritualism includes the phenomena of Prophecy.  How is Prophecy different than  messages? How does Prophecy play a part in the holiday season? What is the history of Prophesy in the world?
Come celebrate this festive season with us. We look forward to seeing you there!